The concept of Hi-Five Doughnuts started when Annie Harlow was babysitting her young niece. "A Food Paradise episode was playing in the background featuring a doughnut shop, and I thought, 'How cool would it be if Louisville had a doughnut food truck,'" she said.
And so, she turned to a friend to get the idea rolling.
Harlow and Leslie Wilson grew up in Louisville and attended the same grade school. Years later, they reconnected in college, working at a local restaurant called Baxter Station, where they soon became roommates.
After college, Wilson worked in the food industry while Harlow worked as a grant writer, waiting tables on the side. Disillusioned with her grant writing gig, Harlow called her best friend to discuss going into business together. The result is Louisville's first female-owned and operated doughnut food truck.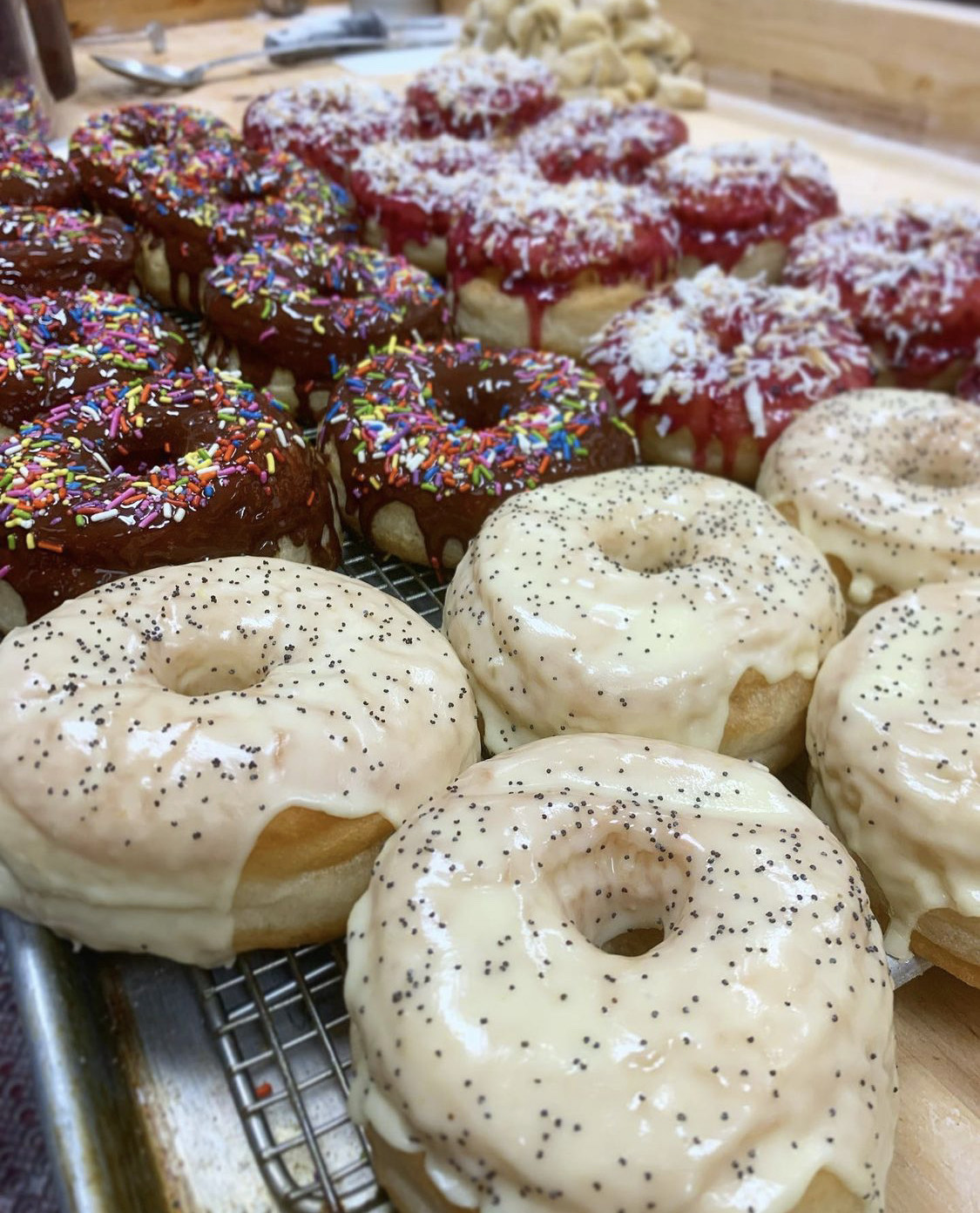 At first, it launched as a private space at Bourbon's Bistro on Frankfort Avenue before evolving into a truck they named Shelby after Julia Robert's character in Steel Magnolias. Today, Hi-Five Doughnuts has a storefront located in Butchertown, and Shelby still makes appearances for catering events.
Hi-Five Doughnuts has a knack for pushing the boundaries of creative flavors. One of their most popular combinations is a bourbon caramel glazed donut with bacon. Other favorites include strawberry glaze with fruity pebbles and cinnamon glaze with Cinnamon Toast Crunch, as well as their bacon, egg and cheese doughnut sandwich with plain glaze.
Along with the listed offerings, customers are encouraged to build their own doughnuts by choosing from various glazes and toppings.
In addition to traditional doughnuts, there are also doughnut cakes and doughnut sandwiches. "One of our most popular is a Kentucky fried chicken doughnut sandwich with a tangy hot sauce," said Harlow.
As much as the two women love coming up with new combos, they say working together is the biggest treat. "Hands down my favorite part of the job," said Harlow. "It could be a tough day, but as soon as we see each other, we just laugh."
As for the story behind the name, Winslow explained that Louisville is believed to be the birthplace of the high-five, dating to the day when a Louisville men's basketball player in the 1978/1979 school year broke his thumb. At the end of the game, he gave his opponents a high-five instead of a handshake. And the rest is high-five history.