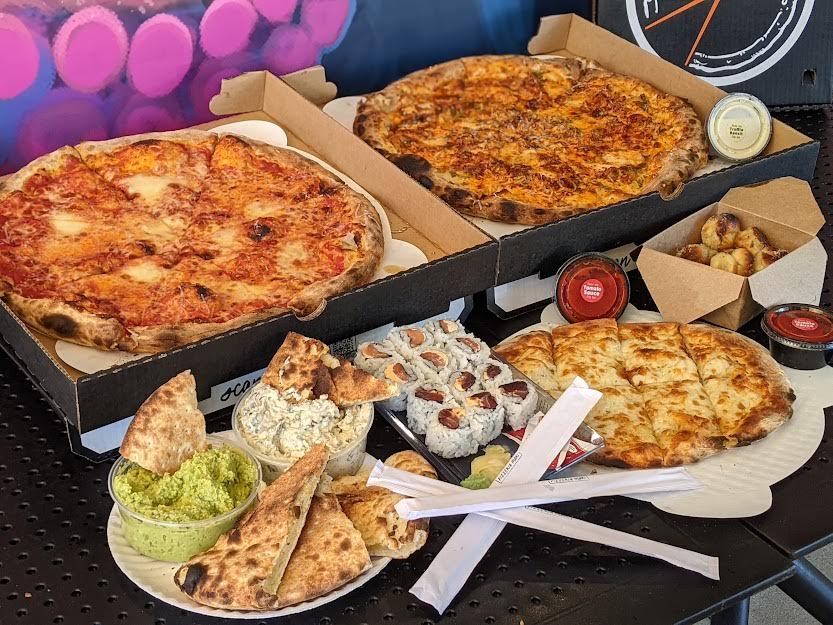 Pizza and sushi are two of the United States' most popular takeout cuisines. In Greenville, Delaware, visitors to Pizzeria Maki don't have to choose between one or the other.
"We're hashtag problem solved," said co-owner Matt Hans. "I noticed that during COVID we were getting takeout all the time from different places." Pizzeria Maki is a spot where everyone in the family can get something they enjoy, from pizza and sushi to salads and rice bowls."
Pizzeria Maki opened in June 2021, with Hans managing day-to-day operations, co-owner Kim Liprie handling advertising and marketing, and co-owner Jill Difebo covering back end administration. From the beginning, the restaurant has focused on using high-quality ingredients to create more healthful dishes — for example, the kitchen doesn't have a fryer.
"We call our pizza New York/Neapolitan-style: big slices out of New York and the old world traditions out of Italy. We make the dough in-house. We use a biga [fermented starter] to start the dough, and the dough is rested for three to four days to get a really awesome product," explained Hans.
On the sushi side of the menu, premium ingredients play a starring role, like in the truffled bluefin pressed nigiri. "We don't have it all the time, because you can't always get the quality level of bluefin that we want," he said. "It's made with rice, a slice of fatty bluefin, and we make it with a fresh truffle sauce that goes on top. I could eat a stack of those!"
In addition to more traditional pizza and sushi offerings, the Pizzeria Maki menu features unique items that fuse a variety of culinary influences and flavors. Liprie is partial to the Rancher Salad with truffle ranch dressing, the brie bacon honey pizza bites, and the Boss sushi roll with tuna guacamole. Another restaurant specialty is the rangoon bread, a calzone-style dish which is stuffed with a crab filling. Other items push the boundary of what customers might expect, like an octopus pizza.
Customer feedback has been enthusiastic and a second Pizzeria Maki location in Glen Mills, Pennsylvania is opening soon. "It's been such an awesome experience so far. We're really looking forward to moving into Glen Mills. It's at the edge of Philadelphia and that market," says Hans.  "We want to expand the brand and have one in every major city in America."
Liprie is enthusiastic about another aspect of the new Glen Mills location: indoor seating, with space for 24 customers. (The existing Greenville location relies on takeout, delivery and an outdoor patio.) Although the emphasis will still be on takeout, she's looking forward to giving people a new way to enjoy the creative, top-notch dishes that make Pizzeria Maki special.