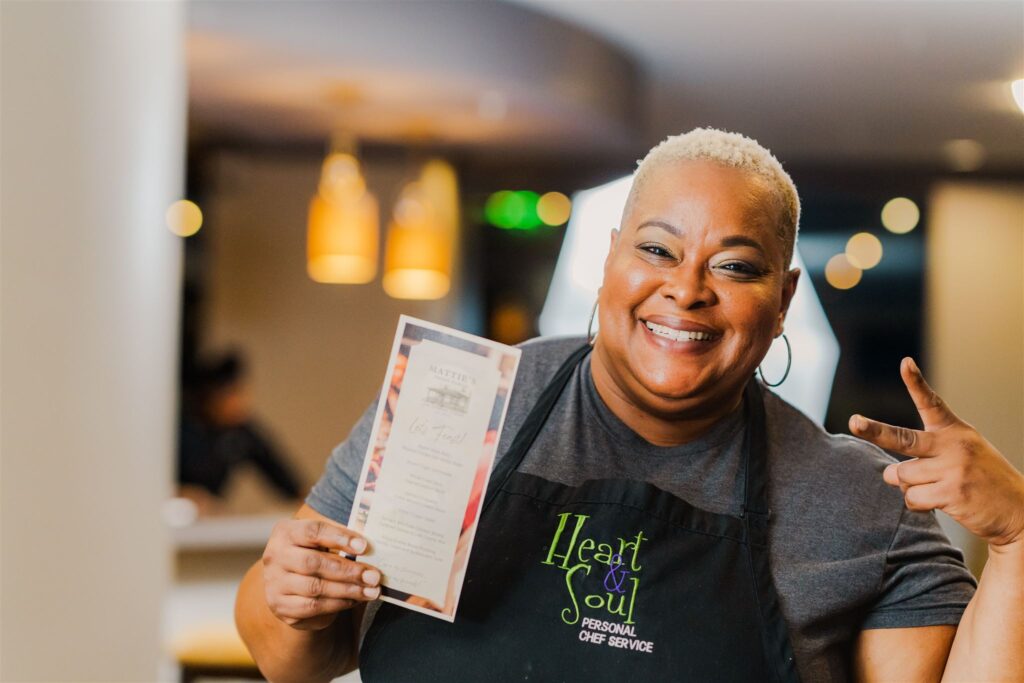 Charlotte, North Carolina-based Chef Lisa Brooks is the executive chef and CEO of Heart & Soul Personal Chef Service, a cookbook author and a Chopped alum. She recently launched Mattie's Front Porch, a monthly pop-up inspired by the culinary legacies of her mother Mabel, grandmother Mattie and great-grandmother Tossie. Each multi-course dinner centers around a different theme, from Southern Coastal cuisine to a family-style Sunday dinner.
We spoke with Chef Brooks to learn more about her grandmother Mattie, how her Southern background and culinary training inform her work and her goals for Mattie's Front Porch.
Can you tell me about your grandmother Mattie and how she has influenced you?
Her approach to food was all about cooking by feel — cooking with your senses, how it smells, how it looks, the texture. That's how I learned to cook: you measure with your heart. Garlic, cheese, I don't measure that stuff. When it feels right to your soul, that's when it's enough.
How would you describe the menus for Mattie's Front Porch?
I take what I know from growing up and infuse it with my classical French training. For example, we had what we called salmon patties, or salmon croquettes. I pair them with Creole mustard cream sauce. With my culinary training, I learned to make a ton of sauces.
Another thing is the crab cakes that I pair with Texas Pete beurre blanc sauce. It's very French, with white wine, but then there's the Texas Pete hot sauce. I'm bringing my whole self to the table, where I'm from and what I've learned.
I understand that telling the stories behind each dish is an important part of Mattie's Front Porch. What are some of the stories you've shared?
One of my desserts is blackberry cobbler. I serve it with homemade lemon thyme ice cream. I tell a story about picking blackberries with my grandmother. She would keep paper bags in her car, and when she would see a blackberry bush she would pull over [to pick the berries]. She'd make blackberry cobbler and that's what I do today.
Every dish I put on my table has a story. I'd say 90% have a family story, and the other 10% are influenced by my travels. I love to travel and I want to continue to fuse new flavors and experiences with my Southern roots.
What do you hope guests will take away from their experience at Mattie's Front Porch?
I hope they'll leave with a feeling of abundance, of love, of inclusion, of belonging. I want them to experience joy. I want them to remember that they are kings and queens and to feel that sense of honor and abundance.
I want them to leave feeling changed somehow, not just through the food, but through the storytelling and who they're sitting with. I've had people say it was almost a spiritual experience, that the food brings them to tears.