A life-changing diagnosis led to the formation of Tucson, Arizona-based PARCH, non-alcoholic drinks inspired by the Sonoran desert.
PARCH co-founders Ila Byrne and Rudy Aldana both worked at Diageo, a global powerhouse in spirits, which includes brands such as Johnnie Walker, Crown Royal and Don Julio. The two never worked directly together, yet Byrne knew of her future business partner's great reputation. Their innovative minds eventually linked up and an idea to create non-alcoholic cocktails came to fruition.
"Rudy chose to remove alcohol from his life after he was diagnosed with and eventually beat a life-changing cancer diagnosis," Byrne told Beyondish. "He asked me to create an alcohol alternative that could take the place of the tequila and mezcal cocktails he had loved drinking. It's a brand that we created to celebrate inclusivity and it's our mission to ensure that every adult can enjoy great tasting, carefully crafted beverages that never feel like a compromise to your values, health or the planet."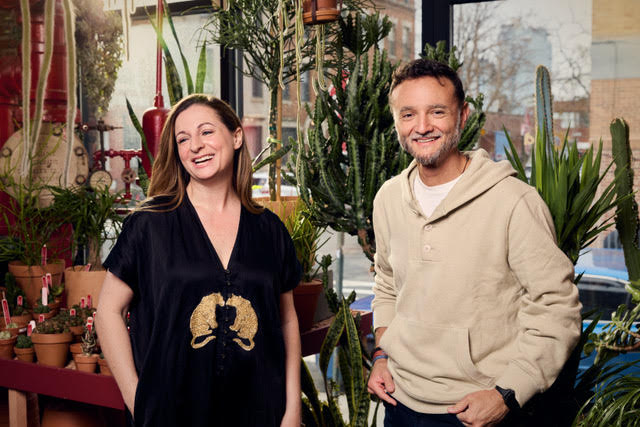 Byrne and Aldana partnered with Brooklyn-based branding studio The Young Jerks and launched PARCH Spirits Co. at the beginning of the COVID-19 pandemic. While the rest of the world started to shut down, the co-founders looked towards making its mark in a competitive market regardless of the circumstances.
'We had real difficulty sourcing glass for our non-alcoholic agave spirits, and the on-premise channels [bars, restaurants, etc.] were closed, so we didn't have any accounts to launch in," Byrne said. "We did the pandemic-pivot and chose to focus on ready-to-drink cans as our first launch offering. It was the right move as RTDs are growing so fast right now and the cost for consumers is lower to try a new brand."
PARCH currently offers two non-alcoholic cocktails made with organic Blue Weber Agave, using the plant's nectar, fiber and bitters. Spiced Piñarita is a spicy mezcal margarita flavored with whole roasted pineapples, smoky mole bitters, cayenne and lime juice. Prickly Paloma highlights the bittersweet notes of the Prickly Pear Cactus Fruit, infused with grapefruit bitters, hibiscus, chamomile, sea salt and lime. The drinks also contain natural herbs and desert botanicals to not only heighten the drinking experience, but also nourish the mind and body.
"Each canned cocktail includes 285 mgs of our custom adaptogenic stack of Ashwagandha, American Ginseng, GABA and L-Theanine to help your body better manage stress and replace the toxic effect of alcohol," Byrne said. "We work with some of the best natural ingredient suppliers in the world to ensure consistently high ingredient quality. The organic Blue Weber Agave is from the highlands in Jalisco, Mexico and is the same ingredient that is used in the world's finest tequilas. Most of our botanicals, fruits and herbs come from the U.S., but if we can't find the quality we need, we will source overseas."
For having the first non-alcoholic agave cocktails on the market, the overall response for PARCH has been immensely positive. The company has won several awards and been recognized by the beverage industry since it launched.
"Customers tell us that we are the best tasting and most complex non-alcoholic drink out there and that they never thought NA drinks could taste this good and complicated," said Byrne. "The word used most commonly about our drinks is 'obsessed.'"