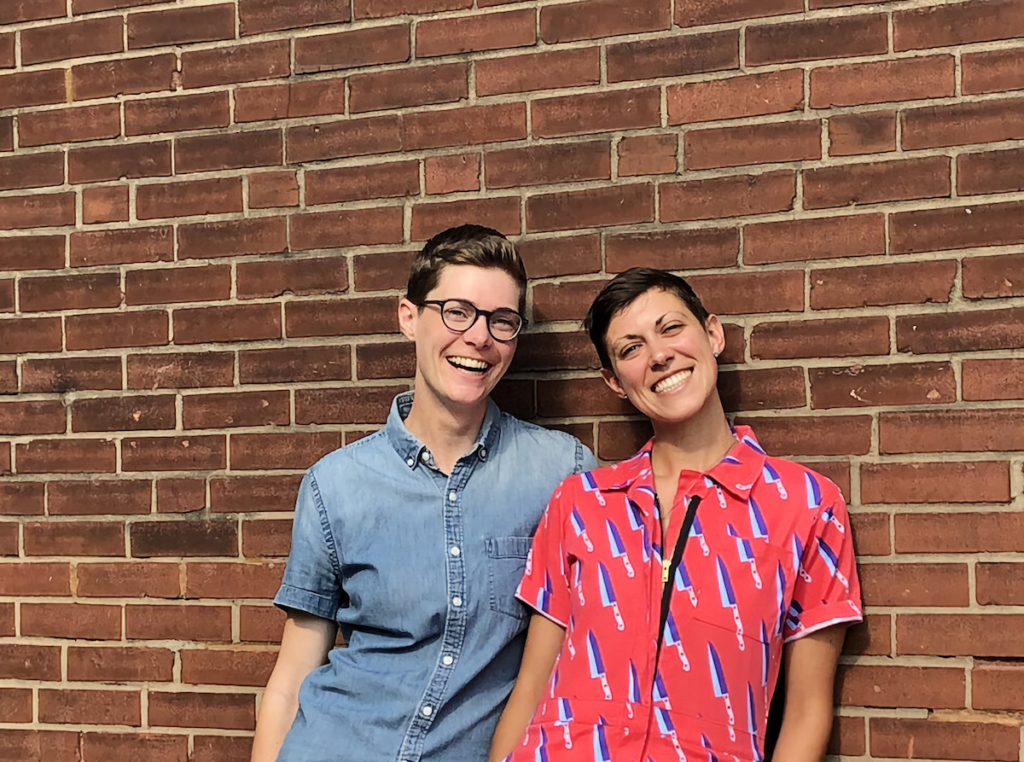 The ice cream sandwich is a familiar treat: vanilla ice cream wedged between slightly soggy chocolate cookies. But St. Louis-based Sugarwitch transforms that ordinary dessert into something magical, with fanciful creations that pair small-batch, ultra-premium ice cream with gourmet cookies.
Sugarwitch co-founders and co-owners Sophie Mendelson and Martha Bass are longtime ice cream lovers and ice cream makers. In 2016, when the couple was long-distance, they each started making homemade ice cream sandwiches. They eventually moved to Columbia, MO, and turned their hobby into "a teeny-tiny queer-owned business," which they subsequently relocated to St. Louis.
Book lovers will notice some familiar names on the menu. Each ice cream sandwich is named after a fictional witch, including Elphaba (Wicked), the Grand High Witch (The Witches) and Tonks (the Harry Potter series).
"We kind of stumbled into it because the pun is irresistible," said Mendelson. "Both of us are very much bookworms and familiar with a lot of witches from literature and pop culture…and I would say there's an inherent queerness to witches, in being an outsider but finding joy and power in that."
Mendelson and Bass have academic and professional backgrounds in food systems and they are committed to sourcing ingredients from local, sustainable and socially responsible producers. Fruit is purchased at the farmers market, and their ice cream base is from Rolling Lawns Farm, a local farm that utilizes sustainable dairy practices.
"We try to build personal relationships as well as transactional relationships and make it mutually beneficial," said Mendelson.
While the Ursula is the bestseller — it's a crowd-pleasing combination of vanilla ice cream, rainbow sprinkles and a salty brownie — the menu also features an ever-changing lineup of innovative and nostalgic seasonal flavors. The Belladonna, which pairs peanut cookies with pineapple cilantro (a dairy-free Taiwanese frozen treat) and Taiwanese peanut brittle, is inspired by Mendelson's brother-in-law's memories of a classic Taiwanese night snack. The Tara (miso brown sugar ice cream with a chocolate chip blondie) and the Elphaba (mint chip ice cream with a salted minty brownie) have also garnered cult followings.
Other treats on the menu include push pops, cups of ice cream and queen cones — homemade waffle cones lined with chocolate, filled with ice cream and then rolled in shell and toppings. "The queen cones are our twist on a classic drugstore frozen treat," says Mendelson. "They sell out in the first hour or sometimes the first 10 minutes!"
Due to production and storage limitations, Sugarwitch is currently open one day a week, utilizing a shared kitchen space and operating the retail portion of the business out of an Airstream trailer. Going forward, Mendelson and Bass plan to scale up their business, increasing their sale hours and expanding into wholesale, events and catering. And they'll keep dreaming up new witchy 'wiches.
Said Mendelson: "There's so much amazing food right now, it's easy to be inspired."