For most of us, marshmallows are an ingredient that we buy at the grocery store without much thought. But for Alexx Shuman, chef and owner of Nomadic Kitchen, Vermont's first marshmallow confectionery, artisanal marshmallows have become a career.
Burlington-based Nomadic Kitchen began when Shuman was home for the holidays and made some marshmallows with her mom. Although she had made marshmallows in culinary school a decade prior, this time they sparked a new feeling of excitement. She had spent her twenties exploring an eclectic range of opportunities, including culinary school, an MBA, marketing and food writing. Starting a marshmallow confectionery was a way to tie all those threads together.
Within 72 hours, Shuman had developed three recipes and launched a website. She envisioned a small-scale pop-up for her family and friends, but demand exploded and she found herself working 17 hours a day in a home kitchen.
"At the end of the week, it was the most exhausting thing I'd ever done, but maybe the most fulfilled I've ever felt," she said.
Nomadic Kitchen officially launched in 2019, and today Shuman oversees a team of five, ships her product nationwide and sells her marshmallows at approximately 50 brick-and-mortar stores as well as local farmers markets.
Shuman describes her marshmallows as "a totally different beast" compared to the mass produced version. "They're pillowy as heck and textural enough that a lot of people eat them straight out of the bag," she said. "I'm funneling my pastry chef background into this one vehicle, so there are big flavors…We want to make every marshmallow a wow."
Nomadic Kitchen's flagship flavors include toasty vanilla, dulce de leche and cinnamon sugar. Various seasonal flavors are available as well, including hot buttered rum, gingerbread, strawberry rose and passionfruit coconut. Some flavors are inspired by place, like blueberry lemon thyme made with handpicked Vermont blueberries.
"It's fun to take inspiration from Vermont — this is a Vermont company," said Shuman. "We're sourcing ideas and ingredients from the community."
Although many customers enjoy eating her creations straight out of the bag, Shuman encourages people to toast them. "They toast up like creme brulee. The outside is shattery, the inside is custardy."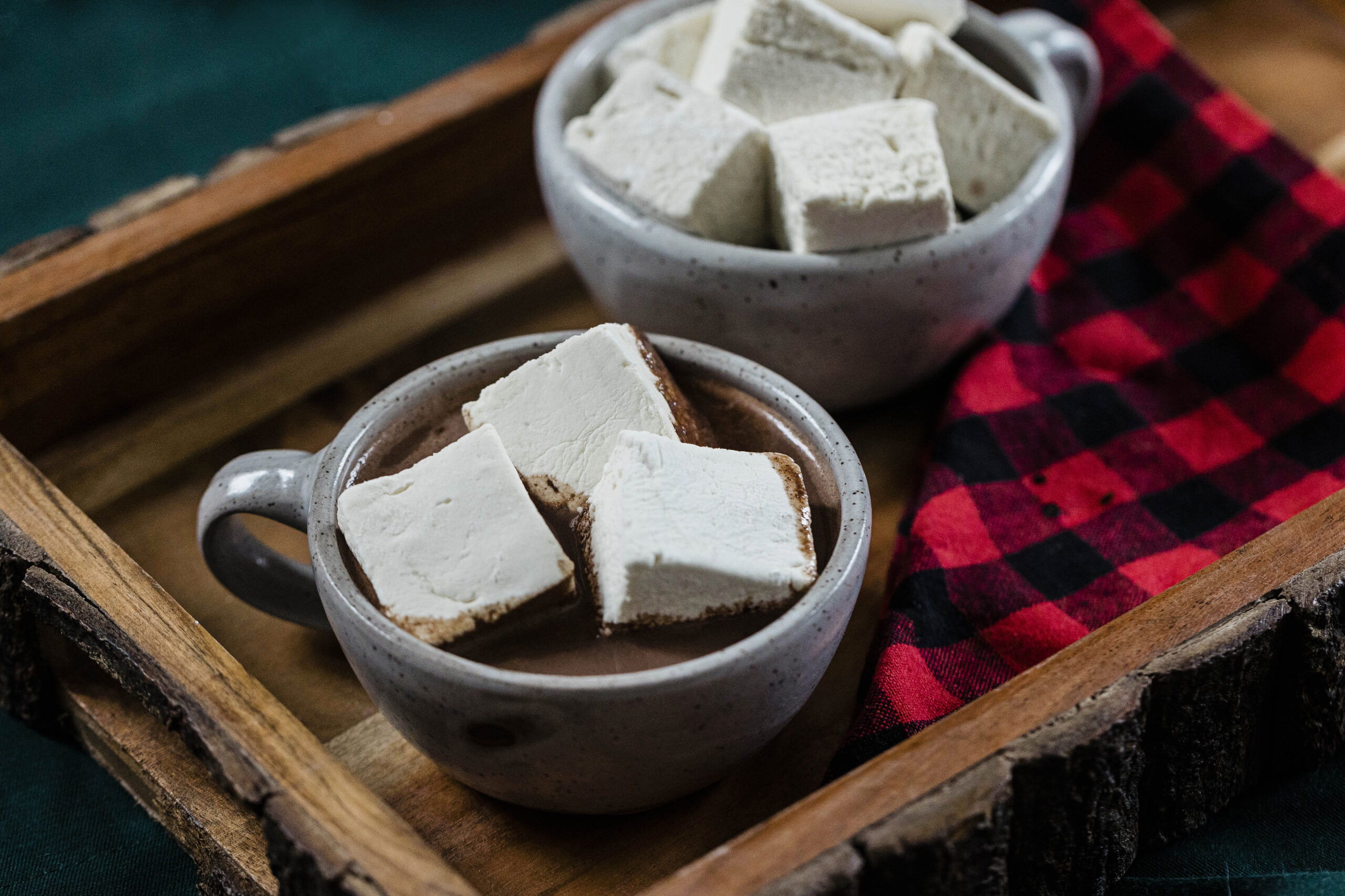 "One of my favorite things to recommend is putting our marshmallows in your morning coffee," she added. "They melt really beautifully, and it adds a little sweetness, flavor, even frothiness, like a magical cappuccino. It's a way to make marshmallows a daily experience."
Looking to the future, Shuman plans to continue to expand her business, taking care to grow harmoniously and support her team's quality of life.
"When I started this business, it was important to run it in a way that allows everyone involved to live well," she said. "My ultimate goal is a company where everyone is working 30 hours per week and is paid a full-time salary with benefits."
She's come a long way since that day making marshmallows with her mom, but Shuman remains just as excited. "[These marshmallows are] evidence that things that are familiar can become new again…Elements of childlike joy, wonder and surprise are missing in a lot of our lives, and I feel honored to create that moment for people.
"When people try our marshmallows for the first time, I get to see that moment of sheer glee on their faces."