Foodies might be familiar with Portland, Oregon for its vibrant restaurant scene. However, the city is also home to the most strip clubs per capita in the United States. That makes for a lot of hungry sex workers (an umbrella term refering to adults who receive money or goods in exchange for consensual sexual services or erotic perfomances), and Portland-based Meals 4 Heels is the late night meal delivery service that caters to their unique needs.
Nikeisah Newton founded Meals 4 Heels in 2019, inspired by an ex-partner who worked as a dancer at a strip club. During that relationship, Newton had seen how challenging it was to get healthy food delivered late at night: few restaurants were open at midnight or 1 a.m., and those that were typically offered a fast food menu of fried, meat-heavy options. In addition, sex workers were sometimes subjected to inappropriate comments or behavior from delivery workers.
"[At Meals 4 Heels], we give respect to sex workers — we're not judging anyone, and privacy is at the forefront," Newton said. "We're delivering to their place of business and we keep that in mind."
In addition to providing late-night, courteous delivery services, the Meals 4 Heels menu caters to sex workers' needs. Vegetarian and vegan dishes are designed to be easier to digest late at night. Since break times can be unpredictable, the meals taste good at room temperature and utilize sturdy greens like collards and kale that can sit for an hour or two. Alliums such as onions and garlic are kept to a minimum, since dancers may be interacting with clients in an intimate environment.
Dishes feature flavors from places Newton has lived and traveled — her father was in the Air Force and while growing up she lived in Japan, Portugal and various places stateside. Her cuisine also emphasizes natural, plant-based ingredients. "From what I've seen, lots of vegan food is deep-fried or mimics animal products," she said. "I like to let legumes and vegetable products shine."
For example, the most popular menu item is the G.T.P. (Gettin That Paper). It features roasted cauliflower flavored with vegetarian tom kha paste on a bed of massaged kale, plus gluten-free sweet potato noodles, truffled tomatoes and Asian pickled cucumbers. "It's a good segue into vegan food," said Newton. "It's one of those meals where you don't miss the meat. It's full of flavors."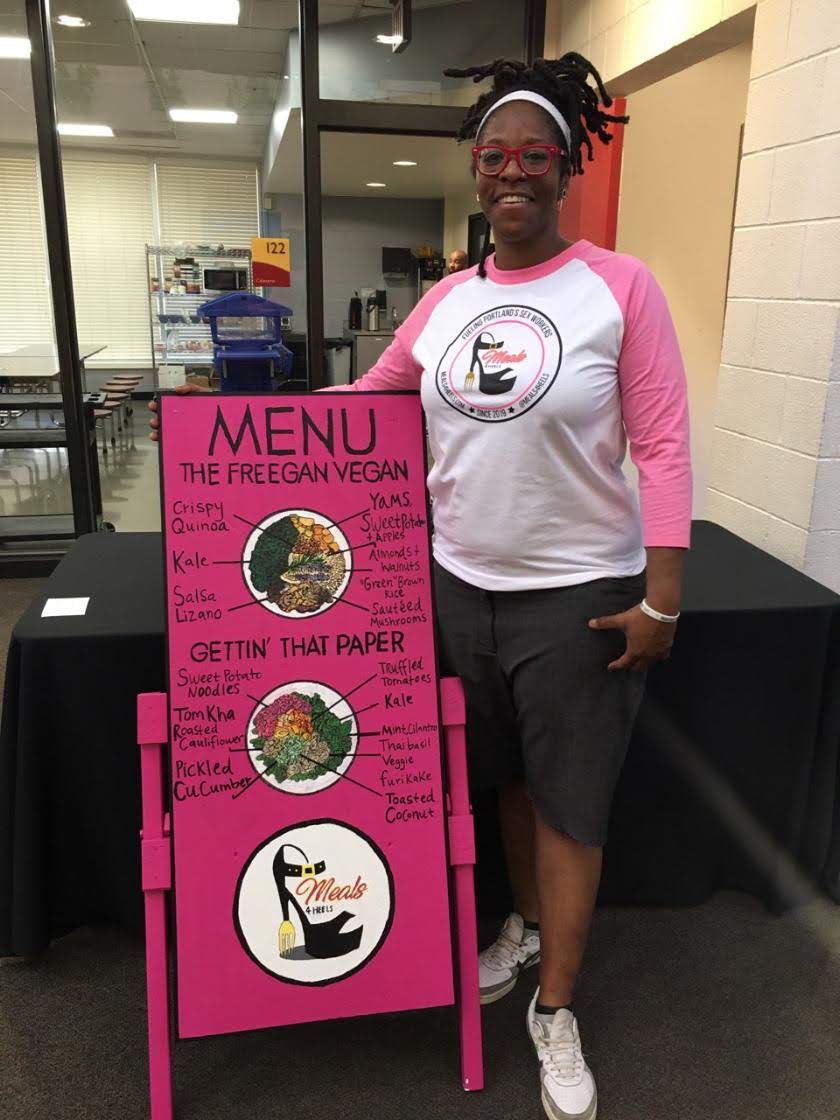 Community is an important focus for Meals 4 Heels, and Newton has partnered with several local social justice organizations to provide free meals at vaccine clinics to people experiencing homelessness and at events for transgender people.
Although Meals 4 Heels is based in Portland, Newton emphasizes that its mission transcends a specific time and place.
"Sex workers are everywhere, they're part of your community wherever you live," she said. "This is about women empowering themselves, and respecting this industry that's been around forever."