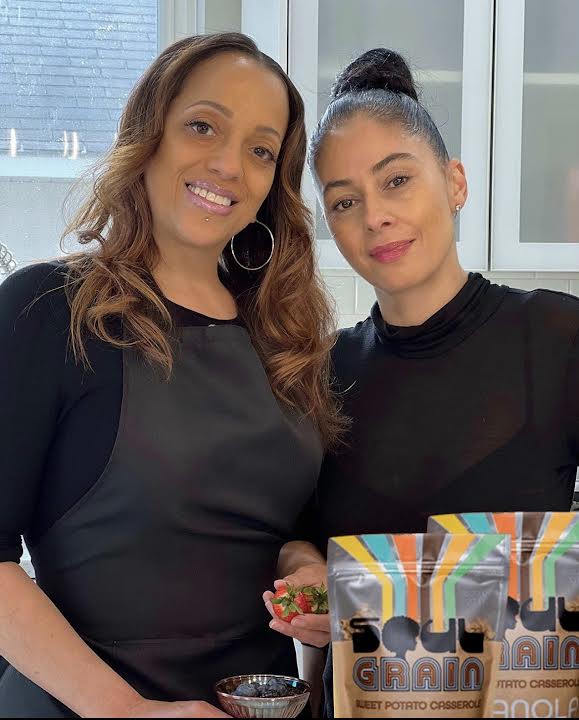 Liza Maya and Sylvia Williams spotted a business opportunity in the granola aisle when they noticed that the flavors on the shelves were a little bit boring. Soul Grain, their St. Paul, Minnesota-based company, aims to spice things up with granola inspired by the Black diaspora.
The Black-owned business venture combines the longtime friends and co-founders' professional backgrounds: Maya is a functional nutritionist, and Williams is a pastry chef. They started selling their granola in May 2022, with flavors including Sweet Potato Casserole, Banana Pudding, Coco Mango, and Spiced Paradise.
"Soul food is perceived as unhealthy, so we wanted to use some iconic soul food recipes and flip them in a way that is healthy," said Williams. "Sweet potato casserole is an iconic African-American dish, banana pudding the same. The Coco Mango with coconut, mango and lime zest is for our Caribbean brothers and sisters in the diaspora. The Spiced Paradise has grains of paradise spice in it, which is used in North African cooking — that's in honor of Liza's heritage."
The flavor lineup also includes Neutral Nelly, a nut-free and fruit-free option for those with allergies. "It's really good — it's got hemp hearts, flax seeds and vanilla bean paste," said Williams. There's a THC-infused flavor, Lemon Meringue High, available in several Twin Cities dispensaries, with additional THC flavors in the works. "We wanted something that people could feel good about eating as they get high," she says, noting that most THC-infused foods are dessert items like candy or cookies.
In addition to distinctive flavors, Soul Grain's products have a unique texture, thanks to the popped amaranth that provides a light, crispy texture rather than the hard, crunchy consistency of traditional granola. The ingredient list is informed by Maya's background in nutrition, with coconut oil in lieu of canola oil and maple syrup instead of sugar.
Currently, Soul Grain granola is available online via the company's website, as well as on the shelves at Twin Cities businesses including Kowalski's, Spyhouse Coffee, and the MSP Airport's Camden Foods, plus Feasty Vegan in Morristown, New Jersey. Going forward, Maya and Williams plan to have a nationwide presence on grocery store shelves, as well as expand to hot cereals.
"Soul Grain is for everyone, not just for Black people," said Williams. "Everybody can eat it. We want to expose everyone to the flavors of the Black diaspora."